What happened to Raila Odinga
Raila Odinga face.
What happened to Raila's face. Photos of former Prime minister Raila Odinga doing rounds on social media has revealed that he has a swollen face. In the photos, President Uhuru Kenyatta together with his son Jomo accompanied by James Orengo visited Odinga at his home after the supreme court upheld William Ruto victory. In the photo, they all can be seen having "fun" and smiling but Kenyans noted Odinga had a swollen face. Many purported that the leader might be ailing wishing him quick recovery. It is not yet clear what happened to him but it seems he has a flue (Homa). Uhuru Kenyatta visited the leader after the supreme court verdict. Uhuru was backing Raila Odinga for his presidency bid.
Also read>>>≥> Julie Soweto Aulo Biography and History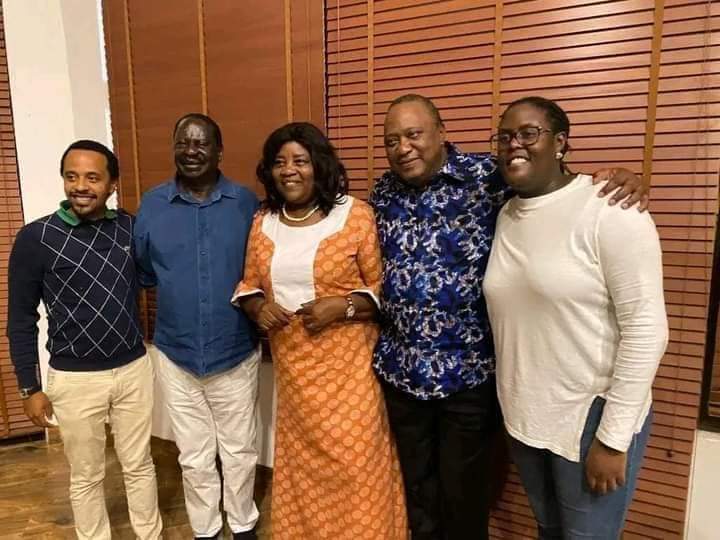 Kenyans say' on Raila Odinga loosing
A section of Kenyans has shared their concern over Raila Odinga's health after President Uhuru Kenyatta visited him.
Nahashon Kimemia: "I opposed him, but I never wished him ill health. I pray that he overcomes his disappointment."
Samwel Mayaka: "It is realy difficult to bear this huge loss. He is going through psychological anguishness."
Jeddy: "Baba should be left alone to rest. He has done enough for ungrateful Kenyans."
Kullow Abdul: "Baba is going through a lot..May God see him through."
Man Dash: "Be strong as i had accepted and moved on,Baba has nothing to loose choices will have consequences sooner rather than later."