*Nyeri missing teacher
Nyeri missing teacher found naked.
Bizarre sad story.
Witchcraft in Kenya.
Joseph Gathogo
Many Nyeri residents were left mouth wide open after the body of teacher who had gone missing for weeks was found nailed in a coffin naked inside his house.  Joseph Gathogo's body was discovered in his two-roomed semi-permanent house in Ihururu village in a coffin put in a boat-like structure in his living room.   The "boat", which acted as the grave, was made of concrete slabs covered with cardboard. Inside the coffin there was a black flag, drugs suspected to be poison, a horn, and a scroll written in foreign language.
Gathogo, 44, was a  computer teacher at Muhoya Secondary School, was reported missing on December 22 last year. According to Mr. Gitau, a caretaker of where he lived, Gathogo was a very peaceful and quiet man and liked playing loud Music. The teacher rarely invited guest in his house and he had no friends. He also stayed indoor and only went out when going to buy something in the area shop. According to Gitau, Gathogo had lived in that resident for 15 Years.
Also read>>>>>>>>>>>>>>>>>>>>>>>>>>>>>>>>>>>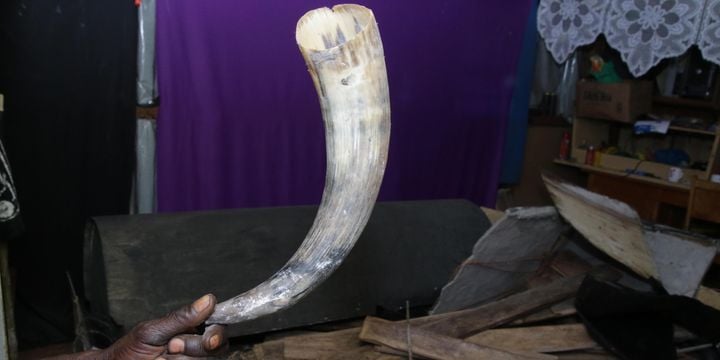 You could only find him outside whenever he was going to the shop," he said, adding the teacher hardly engaged in conversations with people. None of his neighbours realized he was missing until his family came looking for him on January 7, 2022. Its is shocking how the teacher's body was nailed inside the coffin and the front door was locked with padlock and the back door locked from inside. Police are still investigating the scenario to determine where Gathogo was murdered or committed suicide. The body had no physical injuries
The body was taken to Nyeri Provincial General Hospital mortuary awaiting post-mortem.