"TARIMBO BY ETHICIS ADVOCATES FOR VIOLENCE AND RAPE AGAINST WOMEN" EZEKIEL
---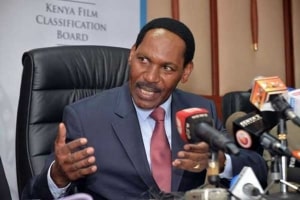 The most popular and influential music label ETHIC has yet received another blow from Kenya Film and Classification Board (KFCB) Director Ezekiel Mutual. This is after the ban of their latest hit "TARIMBO" released early this month. The group ETHIC that is still receiving huge popularity among the youths in Kenya and East Africa is yet to respond to KFCB Director. ETHIC has released many hits this year like "PANDANA", "NEW POSITION" and "LAMBA LOLO' being the most famous hitting over 4 million views on youtube.
EZEKIEL MUTUA ALSO ADDED
Ezekiel Mutua has written to google wanting the video to be pulled out from youtube and other social media platforms, of which is yet to be confirmed since the video is still on youtube. "I have spoken to Google to take down the damn crap called Tarimbo by Ethic Entertainment which advocates for rape of women. Promoting violence against women is criminal and the DCI should arrest the entire bunch of musicians called Ethic, under Article 33, for going beyond the prescribed delimitations on freedom of expression by advocating for violence against women" he said on his Facebook account. The video Tarimbo which with just 3 days has gained over 500k views on youtube is said to be advocation for violence and rape against women.  On his twitter account Ezekiel Mutua last week said that the group Ethic consists of goons and thugs who lay behind calling themselves, artists.                       
Mutua further told off critics who were accusing the KFCB board of killing creativity in the country. "We banned Wamlambez, people said we were killing creativity. I asked these morons if they could shout Wamlambez before their parents and they said they could. I was baffled. These so-called musicians and performers have defied everything decent societies hold dear. They have thrown morality to the four winds in the name of money and popularity." Mutua said.
According to Mutua, the Wamlambez and Tarimbo singers are not artists but "demented circus thugs hiding behind art to promote indecency," adding that neither any self-respecting DJ should not play such.
Unless decent people rise against the wave of immorality in Kenya, we are going to lose a generation in the name of creative freedom. No freedom is absolute. This time round we must draw the line!" he said.
VITAMIN U LATEST RELEASE BY TIMMY TDAT FT ROSS REE ALSO BANNED 
Also under criticism is the 'Vitamin U' song by Timmy Tdat and Rosa Ree, which Mutua termed as explicit noting that Google had confirmed the songs have been restricted on YouTube.
"Google has confirmed to us that the two videos Tarimbo by Ethic and Vitamin U by Timmy Tdat are not available on YouTube to users with restricted mode turned on. Google has facilitated restriction for kids as long as the restriction mechanism is activated. The Board shall be vigilant to ensure this kind of unpalatable content is not accessed by children." Mutua said.
"Content doesn't have to be dirty to sell. We can be creative without violating content classification guidelines as prescribed by KFCB and the Programming Code. The Board will support artistes willing to create meaningful content and will deal firmly with those who break the law."
as we confirmed, the videop by Rosa Ree ft Timmy Tday has been pulled down from Youtube but Tarimbo by Ethic is still online.