Mirugi Dishon wife
Mirugi Dishon songs
Mirugi Dishon latest news
Elizabeth Githinji
Pastor Elizabeth Githinji murder
Kikuyu Gospel Singer Mirugi Dishon has found himself in a hot soup after becoming a prime suspect in his ex-girlfriend's murder case. According to private investigator Simon Muthiora, fresh details reveals that the singer might have collaborated with his Mukurino friend in brutally killing the slain pastor in his apartment. This comes barely a month since the investigator revealed the murder of Jeff Mwathi by Kikuyu Benga artist Lawrence Njuguna alias Dj Fatxo.
The pastor who had invested heavily on Mirugi had travelled from Nakuru county to Nairobi to see his him not knowing that would be his last day to breathe. According to Simon Muthiora, Elizabeth had sent disturbing messages to her sister ber her demise.
"She had invested a lot of money in the musician and now it's believed he wanted her out of the way so that he can proceed with the new woman," Simon said.
The Murder
According to Mirugi Dishon, he left his house at Kahawa west that morning and had went to see his friends. He left Elizabeth doing some laundry inhouse . He later came back only to find the pastor missing After searching for her everywhere, he found his body hanging on the closet. Elizabeth had Allegedly hanged herself using a bedsheet. Mirugi then took her body to Jacaranda maternity home where she was pronounced dead. He then tried to take the body to several police stations where the police refused to take the body on ground he might have tempered with crime scene. He stayed with the body in his car the whole day.
Also read>>>>>>>>>>>>>>>>>>>
Big Blow To Kameme FM as Comedian Kihenjo Joins Gukena FM.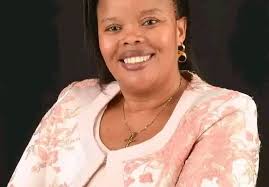 Why she might have been murdered
According to reports the musician had fallen in love with another woman Esther Wagura who is a CEO at a certain real estate company.  The two collaborated with another Mukurino guy to insult and threaten Elizabeth. According to messages she sent to her sister, her life was in danger and the singer was threatening to kill her.
Detectives fro DCI homicide department are still investigating the case to reveal more details.