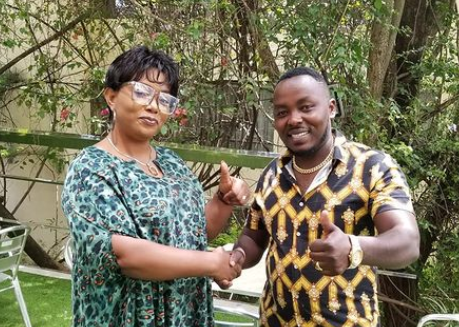 Sammy Irungu And Christina Shusho Releases A Kikuyu Song
Christina Shusho And Sammy Irungu Kikuyu song.

Christina Shusho Kikuyu song
Christna Shusho Latest Song

Sammy Irungu latest Song
Celebrated Tanzanian Swahili songwriter and artist Christina Shusho have amazed many of her fans after producing a Kikuyu song in collaboration with Kenyan artist Sammy Irungu. Sammy Irungu has been producing amazing Kikuyu gospel songs that has been gracing peoples hearts for a while now. Sammy "Irungu Muthenya Wakwa" is his previously recorded song that has recieved good reception by his fans and hence getting alot of views in youtube. The two recorded their fist song together "TUINE RWIMBO" meaning lets sing a song. 
Photo: Sammy Irungu Ft Christina Shusho Song screenshot source: Youtube
Sammy Irungu Ft Christina Shusho Latest Song.
Its is amazing how Tanzanian singer Christina Shusho can sing Kikuyu so perfectly. The video has received over 190k views on Youtube. The two recorded the song days after an agreement. The song was recorded by Sammy Irungu's Studio S2 Squared. Sammy Irungu Muthenya wakwa has been the best of all times.
"Chris Kirubi Was A Super Thief. May He Lot In Hell" Miguna Miguna
 

 

View this post on Instagram

 
 

 

View this post on Instagram

 
What Am I Doing Wrong?. Tv Personality Hellen Muthoni Laments Lacking Husband
Subscribe Below If Prompted